Wave Springs

Wave Springs are designed to replace conventional round wire Compression Springs in applications requiring a tight load deflection specification in a space critical environment. Lee Spring offers both a stock wave spring series and custom wave springs design to meet your exact specifications. The Lee Spring REDUX™ Wave Series is the stock lineup of wave springs available for immediate delivery. In addition to the stock range, Lee Spring can manufacture custom wave springs.
Typically, wave springs occupy a very small area relative to the amount of work they can perform. Wave springs can reduce the size and weight of the assembly by as much as 50%. In fact, depending on the design parameters, they can occupy 30-50% of the compressed height space of comparable round wire springs offering more deflection with the same load specifications. This not only provides for space savings, but also smaller assemblies that use less materials, hence lower production costs.
Wave Spring Design Information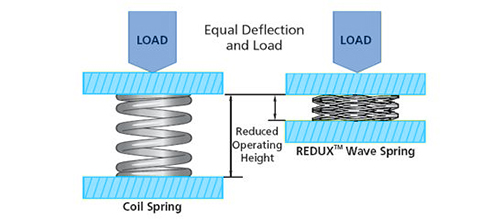 A wave spring is essentially a compression spring made of coiled flat wire with waves added along the coils to give it a spring effect. Wave springs are manufactured with either a plain end design, commonly known as wavy ends; or squared-flat end design, also known as a shim end.
Applications
Wave springs are found in a wide variety of applications where structural considerations restrict the installation height, where uniform force distribution is needed and/or uniform rotational pressure is required over 360°. Wave springs are suitable for both static and slightly dynamic load applications, however, fatigue is a critical consideration when designing a wave spring for dynamic load applications. For higher life cycles a stronger wave spring is needed. Special solutions must be found for extremely dynamic applications, since considerable stress on the side wave curves can cause material abrasion at the contact point. Typical applications include connectors, clutches, valves, pumps, seals, medical equipment etc.
Wave Spring Materials
Lee Spring's REDUX™ Wave Springs are manufactured from a single filament of Type 17-7 Stainless Steel flat wire formed in continuous precise coils with uniform diameters and waves. For custom designs, there are many material and finish options. For high temperature and corrosive environments, careful material selection is required. You can consult with a Lee Spring engineer for technical information.
Stock Wave Springs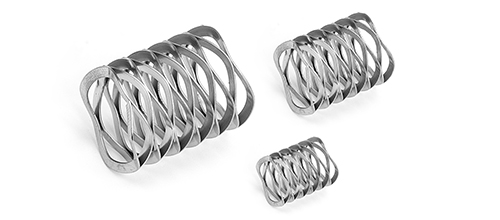 Lee Spring offers stock wave springs in both imperial and metric sizes - search for stock wave springs.
Imperial diameters available from .250" (6.35 mm) to 1.75" (44.45 mm) to meet load requirements from 2 lbs (8.9 N) to 90 lbs (400.3 N)
Metric diameters available from 6 mm (.236 in) to 45 mm (1.772 in) to meet load requirements from 6 N (1.35 lbs) to 400 N (89.9 lbs)
REDUX™ Wave Springs Specifications
Material: Stainless Steel Type 17-7 PH
Wire: Single strand of pre-tempered flat wire
Temperature: Maximum 650" F (340" C)
Finish: Passivated
Coils: Continuous Coil
Design: Uniform diameter and wave heights
Custom Wave Springs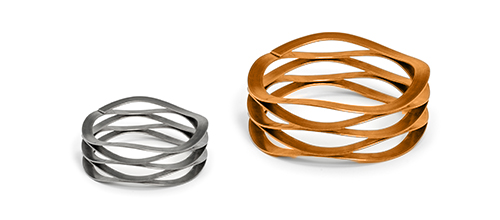 Custom wave springs can be manufactured with a wide range of material, finish and size options to meet your exact design specifications. You may work with a Lee Spring Engineer to assist with the design and technical details for using a custom wave spring in your application. Lee Spring offers custom springs in both small and long run quantities. Request a custom wave spring quote today.
Helpful Wave Spring Tips
Wave Spring Primary Design Considerations
There are 4 critical factors when considering a wave spring:
Constraints of the application: Bore/shaft, ID/OD etc.
Load
Working height at which the load is applied 
Material desired
If a wave spring is designed for static application, make sure the % stress at working height is less than 100%. Spring will take a set if subjected to a higher stress. 
If a wave spring is designed for dynamic application, make sure the % stress at working height is less than 80%. A wave spring will take a set if subjected to a higher stress. 
Few things to remember when designing with wave springs:
If the working height of a wave spring per turn is less than (2 * Wire Thickness), the wave spring will operate in a 'non-linear' range and actual loads may be higher than calculated. 
Number of turns must be between 2 and 20
Number of wave per turn (N) must be ½ increments 
Min. Radical wall = (3 * Wire Thickness)
Max. Radical wall = (10 * Wire Thickness)
It is NOT recommended to compress a wave spring to solid height. 
Outside diameter (OD) expansion and outside diameter (OD) tolerance must be taken into account while designing a spring to fit in a bore and /or over a shaft. 
To consult in person with a Lee Spring engineer, contact us today.
To search or order a stock REDUX™ Wave Spring, click here.
To submit a quote for a custom wave spring, click here.